As a gold awards sponsor, Director Hamish de Lautour presented the Primary Wool Co-operative Sheep Industry Innovation Award to Gordon and Trish Levet at the Beef + Lamb Sheep Industry Awards on 6 July 2016 in Masterton.
Gordon's grandfather used to regularly lose half of his lam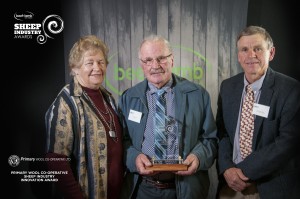 b crop to Barber's Pole worms. Today, 80% of Gordon's stud Romney rams are undrenched, and Gordon believes it will take another four or five generations of rams before he has a sheep that is totally bulletproof against blood-sucking internal parasites. Gordon began breeding toward worm resistance in 1987, recognising that there was a genetic component to a sheep's ability to tolerate worms. 
Primary Wool Co-operative congratulates Gordon and Trish on their win and their on-going commitment to the industry.
About Primary Wool Co-operative Limited
We are a 100% farmer-owned co-operative, committed to capturing the real value of wool, returning profits to members and supporting industry-good initiatives.
Primary Wool Co-operative Limited was formed by a group of farmers in 1974 to increase the returns for wool growers. Over the ensuing decades, membership has grown to nearly 1,300 and significant investment and involvement has been made in the NZ wool industry. The proven grower-owned and controlled co-operative structure remains paramount.
 
Primary Wool Co-operative has a 50% shareholding in Carrfields Primary Wool (CP Wool) and two Primary Wool Co-operative Directors sit on the CP Wool Board to actively represent the interests of Co-operative members.
To learn more about Primary Wool Co-operative Ltd please contact:
 
Bay de Lautour             
Chairman, Primary Wool Co-operative Ltd
m:027 492 8908
 
or visit www.primarywool.co.nz